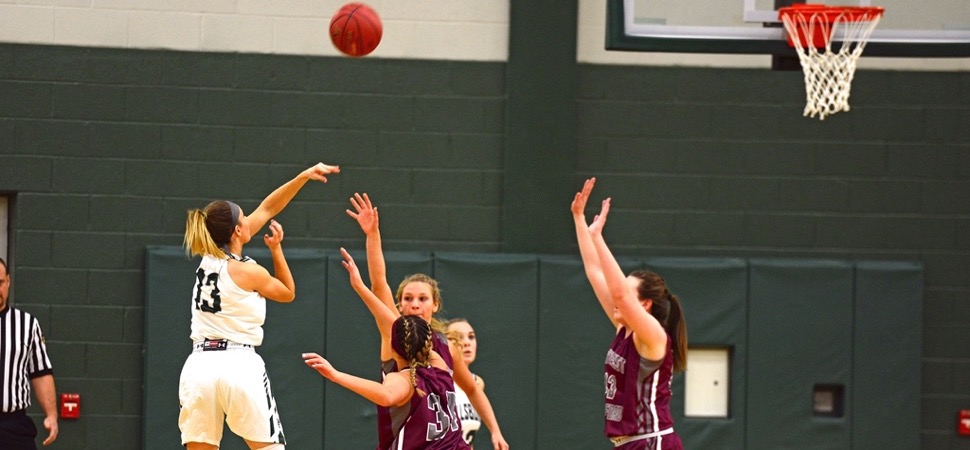 Lady Hornets run past Northeast Bradford
By: Ed Weaver | PIAA District IV | December 14, 2017 | Photo courtesy Wendy Snyder
The Wellsboro Varsity Girls Basketball team picked up their fourth straight win with a 57-32 drubbing of Northeast Bradford on Wednesday, December 13.
"I couldn't be happier how this year has started," said head coach John Davis. "We're doing some good things and it comes down to the hard work that the girls put in during the off-season."
The Lady Hornets played solid defense from start to finish as they forced 16 NEB turnovers on the night.
Wellsboro jumped out to a quick 11-4 lead after the first quarter then really pulled away in the second. Many of Wellsboro's steals were in the second. Senior Tory Self forced many of those turnovers then converted on the offensive end with layups. Self scored 12 points in the quarter, all on fast-break layups, to put the Lady Hornets up 27-13 at halftime.
"We're doing that really well right now. Come out with some tough defense and that is getting us transition points. It gives us a good jump on the game."
The Lady Hornets kept the pressure on NEB to start the third and instead of layups, the long shots finally started falling. Self and sisters Emma Poirier and Lizzie Poirier each hit three-pointers in the quarter. Wellsboro put up 17 points in the quarter as a team and led 44-26.
Wellsboro finished out the game by outscoring NEB 13-6.
Self finished with a game-high 21 points, 6 steals, and 5 assists. Lizzie Poirier scored 15, Emma Poirier had 12, sophomore Cathryn Brought had 4, seniors Rachael Tuttle and Mikel Shabloski scored 2 points each, and junior Luna Alexander pitched in with a point.
Tuttle grabbed 13 rebounds and had 3 steals, Brought had 8 rebounds and 5 assists, and Lizzie Poirier had 6 rebounds and 4 assists.
NEB won the JV game 34-21, dropping the Lady Hornets to 0-3 this season.
The win improves the Varsity team to 4-0 (1-0 NTL Large School Division). The team will be back in action on Friday, December 15 at Sayre.