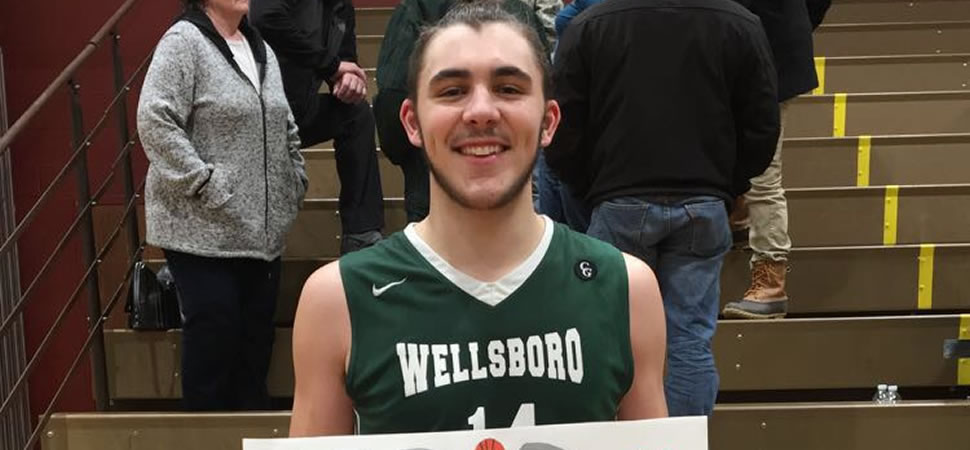 Hornets handle Liberty, Tuttle grabs 500th career rebound
By: Ed Weaver | PIAA District IV | December 20, 2018
Senior Brandyn Tuttle reached a personal milestone as he grabbed his 500th career rebound in the Wellsboro Varsity Boys Basketball team's 62-43 win over North Penn-Liberty on Wednesday, December 19.
Liberty was previously undefeated coming into the game.
Tuttle scored a game-high 24 points and grabbed 9 rebounds to place him at 501 for his career, as he becomes the 12th player in Wellsboro Boys Basketball history to reach the milestone.
"Reaching it for me is a pretty big milestone. I've done a lot of the inside dirty work since my freshman year in order to get to this point. Rebounding for me has just naturally come easy. I credit learning how to be a good rebounder from my Dad. He always told Rachael and I that if you want to get each points, you need to rebound. He told us that when you rebound you don't watch the ball, you think about where it's going to bounce to and get position at that spot."
Tuttle also joins his sister Rachael who grabbed 801 during her career. Between the two of them they've recorded over 1,300 rebounds.
"I'd definitely say that there's some rivalry in the family about who's the better rebounder. Of course I think it's me but Rachael definitely has a quite a few more boards then I do and the stats to back it up. My rebounding goal now is to try see if I can beat her record. I still have a lot of work to do but that's what always makes it fun."
First-year head coach Chase Kriner also chimed in on Tuttle.
"Brandyn is a very hard worker and has only started for 2 years. This milestone is a credit to his excellent court positioning and sense for getting the basketball. I'm very happy for him and I hope his success continues."
Wellsboro started Wednesday's game a little sluggish as Liberty took an early lead over them, but once they turned up the defensive pressure Wellsboro was able to tie the game up at 11 to end the first quarter. The Hornets continued their defensive pressure in the second quarter and went on a 15-7 run behind 6 points from Tuttle and 5 from senior Andrew Brelo. Wellsboro forced 15 turnovers in the first half and pulled away for a 26-18 lead at the half.
"What started out as a well contested game changed once Wellsboro stepped up the pressure," said Liberty head coach Brian Litzelman. "Their half court trap continued to get turnovers which led to some easy baskets and allowed the lead to grow."
"Always good to get a win on the road," Kriner continued. "I thought we came out and played very aggressively and we made some foolish turnovers and poor shot choices. We made some adjustments and I think our defensive pressure forced them into turnovers which led into transition opportunities for us."
Wellsboro kept up their defensive pressure with a 16-11 quarter to start the second half but really did their damage in the fourth quarter as they dropped 20 points to put the game in control.
Brelo also finished in double-figures on the evening with 12 points, senior Tanner Button scored 8, sophomore Joseph Grab had 7, and senior Holden Kennedy added 5 off the bench. Junior Andrew Larson scored 4 points late in the game and senior Hunter Brown rounded out the scoring with 2 points.
Brelo added 4 rebounds and 4 steals to his point total while Button had 4 assists and 2 steals, Grab finished with 2 rebounds, 2 assists, and 2 steals, Brown had 3 rebounds, Kennedy had 3 assists and 3 steals, and Tuttle also added 4 assists, 7 steals, and 2 blocks.
Brandyn Choplosky led the Mounties with 10 points, Duncan Zeafla added 8, Logan Horsley scored 6, and Ethan Delker and Logyn Choplosky each contributed 5 points.
North Penn-Liberty won the JV game 38-34 to drop the Hornets to 1-2 overall. Freshmen Liam Manning and Isaac Keane each scored 9 points.
The win improves the Hornets' record to 3-2 overall (3-0 NTL Large School Division) while Liberty drops to 3-1 (1-1 NTL Small School Division). The Hornets are back in action this Friday as they host Canton.