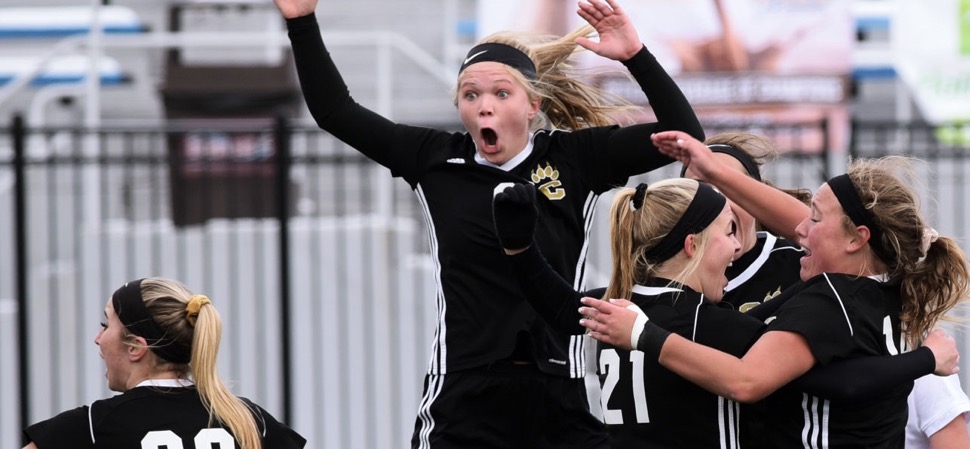 Our Time To Shine: SCA girls soccer wins program's first state championship
By: Tim Zyla | The News-Item | November 17, 2018 | Photo courtesy Larry Deklinski
HERSHEY — In a postseason run that featured some of the most improbable players netting game-winners, it's only fitting that the foot of Southern Columbia defender Sami Palacz lifted the Tigers to a 3-2 overtime victory against Freedom Area during Friday's PIAA Class 1A Championship game.
Palacz's goal with 6:13 remaining in overtime gave Southern its first state title from a female team sport in school history.
While time of possession seemed to be nearly even throughout the contest, the Freedom offense, led by freshman Jayden Sharpless, created better opportunities around the Tigers goal in the first half.
Sharpless scored her 64th goal of the season in the 13th minute of action with a bullet to the upper portion of the net to give the Bulldogs a 1-0 lead, but the Southern defense did not get discouraged and managed to keep the game scoreless until halftime.
Southern Columbia (20-4-1) head coach Derek Stine told his team to stay focused and not let the 1-0 deficit affect them in the second half.
"We simply told them that there's 40 more minutes to play," he said of the halftime speech. "We didn't feel like we were drastically outplayed and we knew anything could happen in the second half. We told them to go after the ball, win the 50-50 balls and play the game they are capable of playing and the one they love to play."
The Tigers took Stine's advice to heart and looked like a new team in the second half, despite winds picking up in rather dramatic fashion.
After three missed opportunities in the first 20 minutes of the second half, which included two good crosses and a solid corner kick in front of the Freedom net, Southern's Morgan Marks capitalized on another good ball from the corner by Morgan Cole to tie the game at 1-1 with 16:26 remaining.
Freedom's response was almost instantaneous.
Michaela Watkins, who assisted Sharpless' goal, had the favor returned and found herself with the ball only feet away from Southern goalie Rilyn Wisloski and unleashed a shot into the back of the net to give the Bulldogs a 2-1 lead. The goal, which came less than three minutes after Marks' game-tying score, sent a wave of shock through the Southern bench.
With less than 14 minutes to respond, the Tigers managed to do the unthinkable when Maggie Morrison fired a rocket from 25 yards out past a diving Kassandra DePoppe to knot the game at 2 with only six minutes left in regulation.
"Maggie is such a clutch player," Stine said. "When you need someone to step up, she does it and she reads the game so well."
Freedom (23-2) came out looking strong in overtime, not allowing a single Southern shot until the Tigers generated a corner kick opportunity. Cole delivered a perfect ball from the corner, which found the head of Jill Marks. The ball caromed off of the crossbar of Freedom's net and landed directly in front of Palacz, who emphatically booted the ball into the net and created a ruckus among Southern fans, players and coaches.
OUR TIME TO SHINE
As Southern's defenders were trotting upfield to get into position for Cole's corner kick, Sami Palacz said she turned to fellow senior Jill Marks and said, "This is our time to shine."
And, as has been done all season, the Southern defense delivered.
Palacz, who scored five goals in her varsity career, said the game-winning goal is yet another example of the depth of talent on a team that had 14 different players score throughout the season.
"It really shows that we're a well-rounded team," Palacz said. "We don't just need two forwards to score and win games and it gives the other team a lot of threats to defend against."
She concluded, "In my senior year — my last game ever — it just feels amazing to be the one to do it. There's no words for it. It's just awesome for us to be able to end it like this."
COACHING CONFIDENCE
Throughout the playoffs, Stine said the coaching staff did not burden the players with intricate scouting reports or detailed strategies tailored to specific teams.
"We've taken each game through the playoffs without looking too much into the teams because we simply wanted the girls to go into each game doing what they've done all year," he explained. "We didn't want them stressing over a player here or a Division I player there. We wanted them to be confident in what they already knew they could do."
The strategy payed off, with Southern defeating a Freedom Area squad that had two Division I recruits on it (Michaela Watkins, Youngstown State and Myla Sharpless, Florida Atlantic University) along with a high-power freshman forward, Jayden Sharpless, who nearly averaged a hat trick throughout her inaugural season (64 goals in 25 games).
STINE GETS ONE
After 19 years of coaching within the program and several close calls, including a state semifinal appearance in 2002 and a state final appearance in 2013, Stine finally got one.
"It feels unbelievable," Stine said. "It felt great in 2013 to get here and it was gut wrenching to lose but we still had a phenomenal time, but this one is just great — it's just sweet."
Southern Columbia athletic director and football head coach Jim Roth was quick to approach Stine after the victory and give him a handshake on the same sidelines that he has led Southern to eight state titles on the gridiron.
"Not many people know this place better than Jim," Stine said. "That meant a lot."
Stine was quick to credit the help of assistant coaches Jen Stine, his daughter, and Erin Spotts along with other assistants who helped throughout the season.