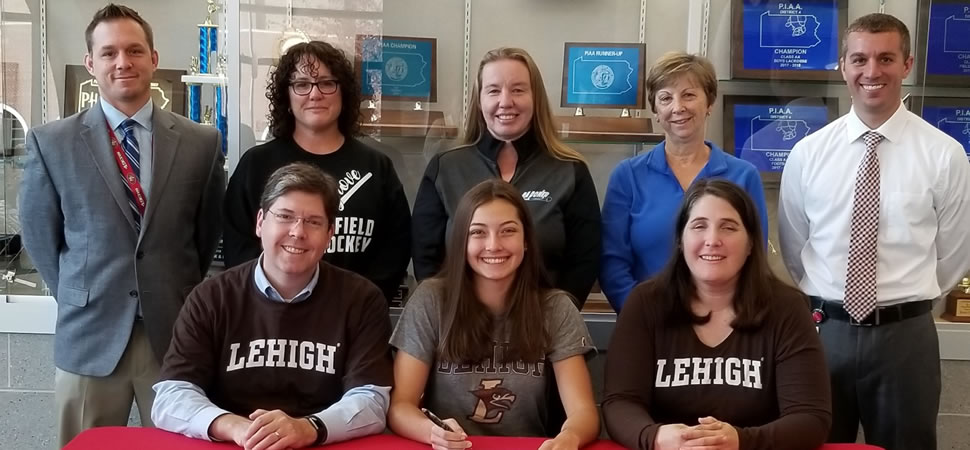 Piecuch signs with Lehigh for Field Hockey
By: Ed Weaver | PIAA District IV | November 20, 2018 | Photo courtesy Selinsgrove Athletics
Selinsgrove senior Anna Piecuch signed her National Letter of Intent last Wednesday to continue her field hockey career at Lehigh.
"I was drawn to Lehigh because of the positive, determined atmosphere of the field hockey program, the rigor of the academic curriculum, and the astounding beauty of the campus," said Piecuch. "I want to contribute to the offensive attack for the team, as well as provide help-recovery on defense. I want to help the team create more goal-scoring opportunities, and do my part to lift the program to a higher level of overall competitiveness."
Piecuch, along with teammate Saramae Radel who also signed last week to Division II Mansfield, helped guide the Lady Seals to a 16-3-2 record and a District IV Class AA championship. She ended her career with 41 goals and 28 assists, with her best two years coming in 2016 (16 goals and 5 assists) and 2017 (14 goals and 12 assists).
Piecuch visited multiple schools before finally choosing Lehigh.
"It was exciting, and stressful at times," she said. "As I explored more schools, I realized what I truly desired in my future college. I appreciate that Coach Dallmeyer was so supportive and allowed me to revisit Lehigh multiple times to ensure that I felt it was the best fit for me.
But ultimately her time on travel teams and at tournaments helped her showcase her skills to college coaches.
"I played at many events to help broaden my options and connect with coaches. My travel and exposure to higher levels of play in various states across the east coast helped me to greatly improve my own skills."
Piecuch was also very appreciative of her coaches and teammates.
"My coaches at Selinsgrove know the game very well, so they have helped shape me into the player that I am today. They taught me that I can never stop improving, and to never say 'I can't.' My teammates have also pushed me to become better and had my back, and when we work as a unit, we are an unstoppable force on the field. I am prepared to continue my growth in the Lehigh field hockey program, and I am grateful for my coaches' unwavering support."