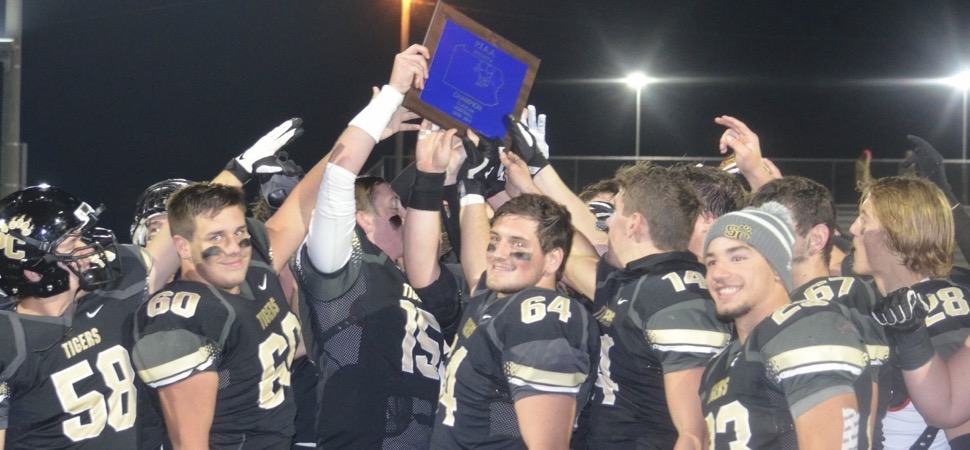 Tigers Terminate Tornadoes For Title
By: Dave Fegley | PIAA District IV | November 18, 2018 | Photo courtesy Dave Fegley
Two things have become almost certain over the past three decades in November if you are associated with Southern Columbia football. Thanksgiving and a District IV Championship. For a record 26th time in the past 28 years, the Tigers captured a District crown. In the 25th meeting between the Tigers and Red Tornadoes of Mount Carmel Area, the home Tigers eventually wore down the Tornadoes to cap off a 39-14 victory.
The game was played on Saturday night due to heavy snows hitting the area, but the Tigers made sure to stick with what they do best. "We wanted to make sure to establish the run against an outstanding run stopping defense. Then we were able to mix in the pass for success," said SCA head coach Jim Roth. "Our defense has played very well all year and other than Mount Carmel hitting on a long pass in the first half, our starters pretty much shut them down."
Unfortunately for the Red Tornadoes, they have to take on the Tigers during the District IV playoffs. For the second year in a row, if MCA was in the western part of the state, the matchup could have quite possibly been in Hershey to determine the state champion. "You have to play the hand you're dealt and either way if we wanted to achieve our ultimate goal we would have to beat these guys. They are the champs and it runs through them," said Mount Carmel coach John Darrah. "Our players gave it their all, but we just came up a little short."
Southern Columbia took a 13-8 lead into the halftime break thanks to two fourth down conversions via touchdown passes. In the first quarter, Stone Hollenbach connected with Julian Fleming on a 28-yard touchdown on a 4th and 14. After a Jake Davis interception, the next drive resulted in a Preston Zachman 10-yard touchdown catch on a 4th and nine. "With Julian's catch he definitely makes it easy on me. His two touchdowns I just threw it to the corner of the end zone. He's just simply a better athlete than anyone else on the field," said Hollenbach. "The throw to Preston was kind of a back shoulder one and he was able to make the play."
Southern was threatening to take a three score lead late in the first half, but Hollenbach was intercepted by Noah Berkoski in the red zone. Then with just over two minutes to go in the second quarter, trailing 13-0, MCA was able to find an opening to cut into the Tigers lead. Tom Reisinger was able to find Avery Demko behind the Tigers secondary for a 45-yard touchdown pass. "That sequence was costly for us. We made a mistake by turning the ball over when we were close to scoring and then our secondary allowed their guy to get behind us to score," Roth said. Through the first 12 games, Demko had a total of 12 receptions. In this season-ending game alone he caught seven passes for 86 yards.
To start the second half, Gaige Garcia did exactly what he does best. The Southern Columbia junior returned the opening kickoff 89 yards for a touchdown and that was ultimately the game-changer. "Right before they kicked it I heard some of their guys on the sidelines yelling to kick it to me. I took it personally and wanted to make a play," said Garcia. After a failed two-point conversion attempt, the Tigers lead was 19-8. "Honestly I was surprised that they decided to kick it deep to us. Teams have simply not kicked it to us all year on punts and kickoffs. With Gaige and Julian back there, that's about as scary of a duo as you will ever see," Roth said.
With 3:16 left in the third quarter, Southern took a 25-8 lead on another 4th down conversion. This time Hollenbach found Fleming in the corner of the end zone from 18 yards out on a 4th and 10. Early in the fourth quarter, Garcia scored on a 12-yard run to make the score 32-8. With how well the defense was playing, the lead was more than enough. "We have a lot of athletic guys on the defensive side of the ball. It starts with our linebackers because of their speed," said Roth. The two leaders, Cal Haladay (11 tackles) and Max Tillett (10 tackles), shut down the Red Tornadoes run game. Zachman and Nate Crowl each had sacks to end MCA drives.
Garcia scored his third touchdown of the half on a three yard run to extend the lead to 39-8 with 1:44 remaining. The victory was the second title that the school captured in consecutive days. On Friday afternoon, the girls soccer team won their first ever state championship. "As a school I feel we have the best sports teams overall as anyone in the state hands down. The girls were down in that game at two different times but didn't give up so that's a credit to them. Now we want to win another one in football to bring home another gold to Southern," Garcia said.
Mount Carmel Area's season was coming to an end and that meant the end to the career for their senior class. "It's going to be strange next year to not have those guys in uniform. I've never coached a game without those guys playing. Their dedication and efforts have turned the program in the direction we want to go," Darrah said. "Three of those seniors were contributors since they have been freshmen and this season they provided us with great leadership."
Senior defensive end Michael Hood had two sacks in the loss giving him 17.5 on the season which was just one sack shy of the single-season school record. Running back John Ayres couldn't get anything going against the Tigers starters. Before the final drive of the game, he totaled just 24 yards on 11 carries. Then, with the SCA reserves finishing out the game, he was able to take advantage and picked up 59 yards on his final three carries including an 11-yard touchdown run with under a minute remaining to make the final score 39-14. Ayres finishes his career 4th all-time in rushing yards in Red Tornado history.
The Tigers head into next week's state quarterfinal taking on an opponent that they have never faced before in undefeated York Catholic. In what seems to be a flaw in the PIAA's bracket setup, the Fighting Irish has a bye this week after defeating Delone Catholic in overtime last Friday. SCA won't use that as an excuse though and the senior class wants to make it back to Hershey for the fourth year in a row. "It hit me after the game that this was the last game for us seniors on our home turf. It couldn't have ended much better though winning another championship against a very good Mount Carmel team," said center Troy Donlan. The Tigers will try for their 30th straight win next Saturday at 1:00 in Shamokin.
SCA: 13-0-12-14 = 39
MCA: 0-8-0-6 = 14
SOUTHERN COLUMBIA (13-0)
Rushing:
Gaige Garcia 18-124, 2 TD's; Gavin Garcia 11-75; Ty Roadarmel 7-21, Stone Hollenbach 3-18
Passing:
Stone Hollenbach 8-14-1, 120 yds, 3 TD's
Receiving:
Julian Fleming 3-55, 2 TD's; Preston Zachman 2-26, TD; Gavin Garcia 1-32
First Downs: 20
Penalties: 4-40
MOUNT CARMEL AREA (10-3)
Rushing:
John Ayres 14-83, TD; Shane Weidner 3-24; Noah Berkoski 1-(-1); Tom Reisinger 5-(-11)
Passing:
Tom Reisinger 15-25-1, 159 yds, TD
Receiving:
Avery Demko 7-86, TD; Shane Weidner 4-49; Jack Chapman 2-28; Logan Wills 2-(-4)
First Downs: 13
Penalties: 4-35