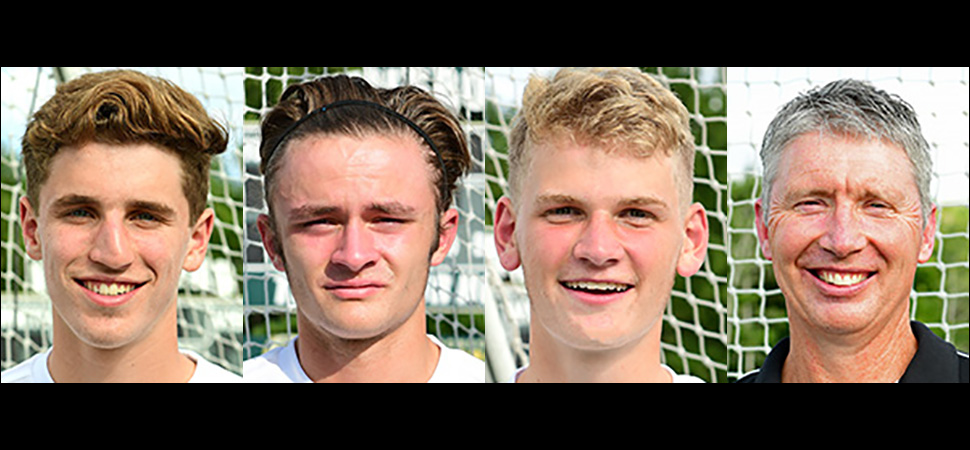 Poirier, Mann, Singer, Fitch receive NTL honors
By: Ed Weaver | PIAA District IV | November 10, 2020 | Photo courtesy Wendy Snyder
Seniors Will Poirier, Kaeden Mann, and Zach Singer and head coach Todd Fitch received the top awards in NTL boys soccer as the league released their all-star teams on Tuesday, November 10.
Poirier was named Player of the Year, Mann received co-Offensive Player of the Year honors, Singer was the co-Defensive Player of the Year, and Fitch and the Hornet coaching staff were named Coaching Staff of the Year.
Poirier scored a team-high 24 goals and assisted on 29 goals. Poirier not only scored his 50th career goal but also crossed the 80 assist plateau to become the first Hornet to do so.
Mann was 2nd on the team in scoring with 19 goals and 8 assists and finished his career as the 2nd all-time leading scorer in program history.
Singer was a controlling force on the Hornets' back line that allowed just 13 goals all season, and only 7 in the regular season.
Fitch, in his 3rd season as head coach, finished undefeated in the league to win an outright NTL championship.
Joining Poirier, Mann, and Singer on the all-star team are sophomore Jack Poirier, senior Joseph Grab, senior Zach Rowland, senior Ethan Ryan, and senior Jonathan Wetzel. Poirier, Grab, Rowland, and Ryan were 1st team selections while Wetzel was a 2nd team pick.
Jack Poirier was 3rd on the team with 17 goals and 7 assists, Grab scored 13 goals to finish his Hornet career with 37 goals, and Rowland helped anchor the defensive backfield with Singer.
Ryan recorded 49 saves in goal with 6 shutouts in 790 minutes of play.
Wetzel joins fellow defensive mates Singer, Rowland, and Ryan to complete the defensive sweep.
WellsboroAthletics.com would like to congratulate Will, Kaeden, Zach, Jack, Joseph, Zach, Ethan, Jonathan, and Coach Fitch on their all-star selections.
View the complete 2020-21 NTL Boys Soccer All-Star team selections.