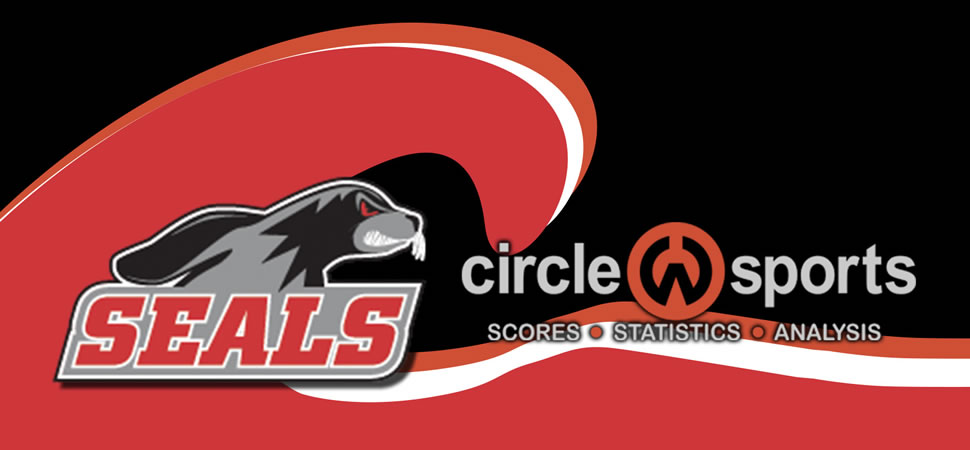 Seals season ends in loss to Shamokin in District 4 Class 4A semifinals
By: Selinsgrove Athletics | PIAA District IV | October 30, 2020
SELINSGROVE — Without senior standout Nate Schon, stopping the Shamokin running game would be a tough task for the Selinsgrove defense.
"They knew Schon wouldn't be there, and they tried to take advantage of it," Selinsgrove coach Derek Hicks said of the Indians rushing attack.
Max Madden ran for 207 yards and two scores, while the Shamokin defense held the Seals scoreless in a 15-0 Shamokin victory at Harold L. Bolig Memorial Field.
"For whatever reason, in all three games against these guys, we've had one breakdown, and given up a big play," Hicks said. "It was kind of same script as last time (they beat us), special teams hurt us early, we gave up one big play, and then another blunder late put us away."
Shamokin improves to 5-3 on the season, and will face the winner of tonight's Mifflinburg at Jersey Shore game in the other District 4 Class 4A semifinal. Selinsgrove, which won't be adding any more games to its schedule, finishes the 2020 season at 4-4.
Friday night's rubber match between the schools went generally as expected. It was a defensive battle and the Indians hit a big play — a 47-yard Madden run to the Seals one — to score the only touchdown of the game in the first nearly 46 minutes of action.
Brandon Hile ran for a career-high 101 yards for Selinsgrove, but the Seals didn't complete a pass.
"Offensively, we were gaining five or six yards sometimes, but we couldn't maintain that, and we couldn't finish drives," Hicks said. "At the end of the day, that was the difference between this week and last week. We were able to hit some offensive plays, and tonight, we weren't."
The Indians defense forced a three-and-out on the Selinsgrove's first possession. The snap got away from Seals' punter Cole Catherman, and he was forced to kick it out of the back of the end zone for a safety, and a 2-0 Shamokin lead with just 2:09 into the game.
The Indians took the free kick, and drove into Selinsgrove territory, but the Seals defense forced an incompletion on fourth-and-four from their 28. The Seals offense then put together their best drive of the game. After a block below the waist push Selinsgrove back to its own 15, Hile ripped off a 29-yard run to Selinsgrove 44. Selinsgrove would pick up two more first downs, but a Kyle Ruhl pushed the 44-yard field goal attempt wide lift.
The teams exchanged punts before Shamokin put together an eight-play 88-yard drive to take a 9-0 lead on Madden's one-yard TD plunge with 2:27 left in the first half. The TD was set up by Madden's 47-yard run, in which he broke to the outsde down the right sideline, the cut back to the middle of the field, before being drug down just short of the TD.
The game remained 9-0 for most of the second half. Selinsgrove drove to the Shamokin 32 on its first drive of the second half, but were stopped from a seven-yard loss on fourth down. Ryan Aument made a strip and recovered a fumble at the Shamokin 48, but the Seals were forced to punt.
The Selinsgrove defense also stopped two deep drives into its own territory, stopping a fourth down play from their 23. On that offensive series, an errant screen pass become a backward lateral, and a fumble for Selinsgrove. Corey Adams jumped on it at the Selinsgrove 4, but a personal foul penalty moved the ball back to the 19. Madden ripped off an 18-yard run in which he drug Selinsgrove defenders inside the one, but a fumbled snap into the end zone ended the drive.
The Indians finally clinched the game with a touchdown with 2:27 left in the game, set up by Ryder Zulkowski second interception of the game. Madden's three-yard TD run, and the missed two-point coversion gave Shamokin a 15-0 lead.
DISTRICT 4 CLASS 4A PLAYOFFS
SEMIFINAL
at Harold L. Bolig, Memorial Field
SHAMOKIN 15, SELINSGROVE 0
Shamokin (5-3) 2 7 0 6 — 15
Selinsgrove (4-4) 0 0 0 0 — 0
SCORING SUMMARY
First quarter
Sham-Safety, snap out of end zone
Second quarter
Sham-Max Madden 1 run
Fourth quarter
Sham-Madden 3 run
Team statistics
SHAM`SEL
First downs 13 8
Rushes-net yards 46-218 39-121
Passing yards 39 0
Passing 3-7-0 0-13-2
Fumbles-lost 3-2 2-1
Penalties-yards 4-34 6-55
Individual statistics
RUSHING — Shamokin: Max Madden 36-204, 2 TDs; Ian Paul 5-13; Aaron Frasch 3-10; Brett Nye 2-(-9). Selinsgrove: Brandon Hile 16-101; Teague Hoover 9-15; Ryan Aument 3-11; Coy Bastian 10-(-4); team 1-(-1).
PASSING — Shamokin: Nye 3-7-0 for 39 yards. Selinsgrove: Bastian 0-12-2; Hile 0-1-0.
RECEIVING — Shamokin: Micah Miller 1-20; Billy Delbaugh 1-16; Madden 1-3. Selinsgrove: none.