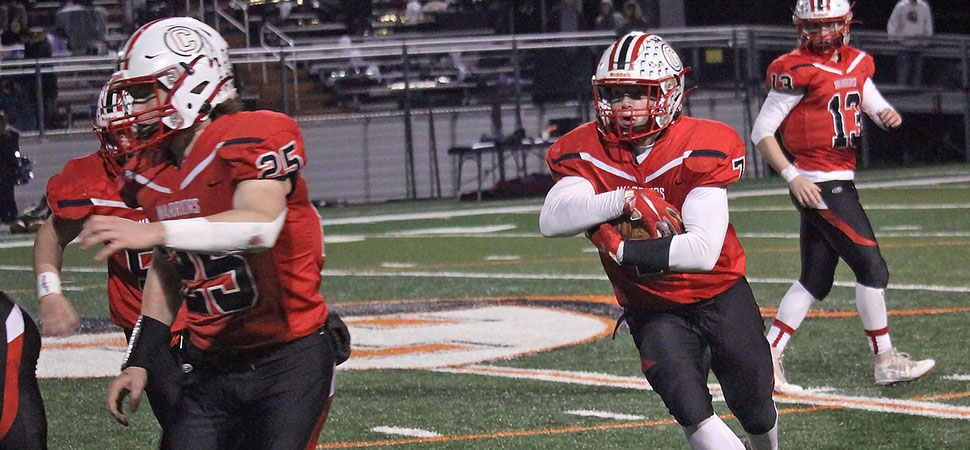 Canton routs Muncy for 1st D4 championship in 31 years
By: Chris Manning | PIAA District IV | November 13, 2021 | Photo courtesy Chris Manning
TOWANDA - Canton pounded their way past Muncy 45-7 to win their first District IV, Class A football title since 1990.
"There was a lot of stuff that went in to that," Canton coach Tyler Sechrist said about the win. "Being so close so many times, a lot of effort and a lot of work - it feels good to get it done."
The Warriors finished with 320 yards rushing, led by Riley Parker's 98 yards and two touchdowns on 17 carries. Wes Bellows had 91 yards and a touchdown on 10 carries, while also hauling in two catches for 93 yards and a score. Hayden Ward chipped in with nine carries for 75 yards and a score, while quarterback Cooper Kitchen had 10 rushes for 13 yards and a touchdown.
"We were looking forward to this game at the beginning of the season," said Bellows. "We were ready for it."
After recovering a Muncy fumble on the first snap of the game, Canton would go down and score on a 5-yard Parker run on 4th-and-5. Hayden Ward ran in the 2-point conversion to put the Warriors up 8-0 with 9:17 on the clock.
On their next possession Kitchen capped off a 17-play drive with a 1-yard run to pay dirt. Parker ran in the 2-point conversion, and Canton led 16-0 with 31 seconds left in the opening quarter.
In the second quarter Canton got a 1-yard Ward run, and an 18-yard Bellows run to find the end zone. Parker punched in both conversion attempts to give Canton a 32-0 lead at the half.
It was more of the same in the third quarter, with Bailey Ferguson hitting Wes Bellows on a 42-yard touchdown pass less than three minutes into the second half. The run failed but Canton led 38-0.
Parker then scored their final touchdown with 1:44 left in the third quarter on a 10-yard run. Ferguson added the point after to make it a 45-0 lead.
Ty Nixon would score a late touchdown for Muncy, with Loudon Boring's kick good for the 45-7 final.