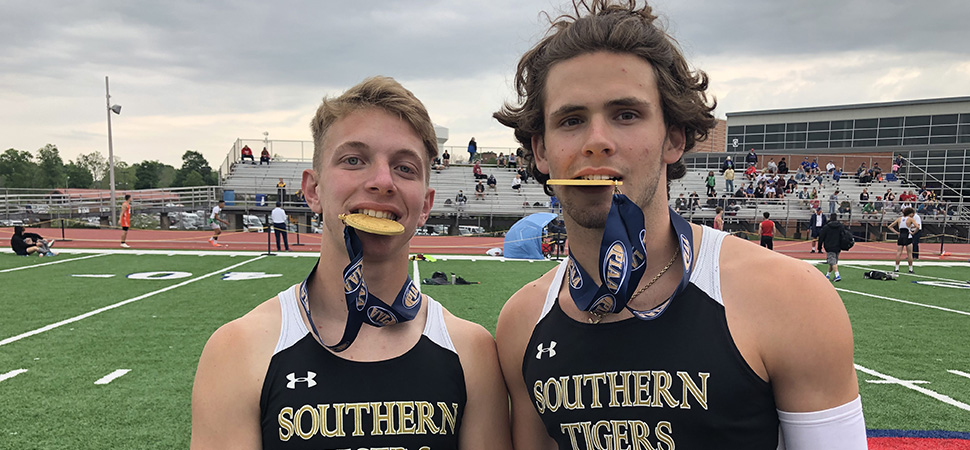 Southern Columbia Boys Run Away With PIAA AA Track Title
By: Ed Weaver | PIAA District IV | May 29, 2021 | Photo courtesy Brett Crossley/Northcentralpa.com
The Southern Columbia Tigers' Boys Track & Field team ran away from the competition en route to a PIAA Class AA championship at Shippensburg University on Friday, May 28.
The Tigers won the meet with 62 points, 36 more than 2nd place Scranton Prep (26).
The Lewisburg Girls team also had a great day, finishing 4th overall with a score of 30 points, just 9 shy of claiming a 1st place finish. Milton also recorded a top 10 team finish with 18.5 points.
Boys Track Events
100m Finals
1. Braeden Wisloski (Southern Columbia) - 10.81
100m Prelims
9. Chris Aviles (Milton) - 11.18
11. Gavin Garcia (Southern Columbia) - 11.2
200m Finals
2. Braeden Wisloski - 22.16
200m Prelims
14. Chris Aviles - 22.86
16. Nasir Heard (Bloomsburg) - 22.94
400m Finals
3. Gavin Garcia - 50.27
16. Ronan Serrano (Bloomsburg) - 51.55
800m Finals
10. Quaid Molino (South Williamsport) - 2:00.95
22. Seth Neal (Williamson) - 2:10.17
1600m Finals
20. Owen Cummings (Williamson) - 4:35.59
22. Port Habalar (South Williamsport) - 4:37.30
3200m Finals
8. Logan Strawser (East Juniata) - 9:40.30
16. Noah Shedden (North Penn-Mansfield) - 10:05.99
110m Hurdles Finals
1. Jake Rose (Southern Columbia) - 14.10
5. Dustin Hagin (Troy) - 15.46
110m Hurdles Prelims
14. Ben Robinson (Montgomery) - 15.96
300m Hurdles Finals
1. Jake Rose - 39.22
10. Rowan Smith (East Juniata) - 41.43
4x100m Relay
1. Southern Columbia - 42.59
19. Wellsboro - 45.76
4x400m Relay
2. Southern Columbia - 3:27.83
3. Loyalsock - 3:28.42
4x800m Relay
3. Hughesville - 8:07.14
6. South Williamsport - 8:12.28
High Jump
10. Michael Balichik (Mount Carmel) - 6-ft, 2
12. Spencer Tanner (Warrior Run) - 6-ft
Long Jump
3. Idris Ali (Loyalsock) - 21-ft, 9.5
6. Kashawn Cameron (Wyalusing) - 21-ft, 4.25
Triple Jump
1. Idris Ali - 45-ft, 2.25
20. Jake Davis (Southern Columbia) - 40-ft, 5
Pole Vault
5. Brayden Mckibben (Montoursville) - 13-ft
Discus
15. Asher Ellis (Athens) - 138-ft, 2
18. Cole Goodwin (Milton) - 132-ft, 9
Javelin
14. Gavin Livermore (Montoursville) - 158-ft
16. Asher Ellis - 155-ft, 9
Shot Put
8. Matt Kelley (Mount Carmel) - 47-ft, 8.25
13. Garrett Carter (Central Columbia) - 46-ft, 1.25
Girls Track Events
100m Finals
4. Liberty Gearinger (Central Columbia) - 12.45
100m Prelims
18. Janae Bergey (Milton) - 12.96
200m Finals
5. Liberty Gearinger - 25.55
200m Prelims
14. Elizabeth Manning (South Williamsport) - 26.49
400m Finals
2. Lily Saul (Montoursville) - 57.66
6. Elena Malone (Lewisburg) - 58.71
8. Elizabeth Manning - 59.29
800m Finals
6. Lily Saul - 2:17.42
16. Bella Johns (Danville) - 2:23.90
1600m Finals
13. Lauren Trapani (Warrior Run) - 5:19.76
19. Sarah Mahoney (Lewisburg) - 5:31.02
3200m Finals
8. Grace Petrick (Danville) - 11:19.11
100m Hurdles Finals
4. Siena Brazier (Lewisburg) - 15.16
100m Hurdles Prelims
11. Claudia Morris (Mount Carmel) - 16.38
300m Hurdles Finals
3. Siena Brazier - 46.25
6. Riley Murray (Milton) - 47.35
13. Madeline Ikeler (Lewisburg) - 48.56
4x100m Relay
1. Milton - 49.70
2. Bloomsburg - 50.12
4. Hughesville - 50.71
4x400m Relay
2. Lewisburg - 4:03.62
6. Hughesville - 4:06.68
4x800m Relay
3. Lewisburg - 9:42.74
7. Warrior Run - 9:51.80
High Jump
1. Porschia Bennett (Towanda) - 5-ft, 7
2. Charly Slusser (Williamson) - 5-ft, 6
13. Brooklyn Lentz (South Williamsport) - 4-ft, 10
Long Jump
3. Sophia Gardner (Loyalsock) - 17-ft, 3
14. Charly Schlauch (Bloomsburg) - 16-ft, 1.75
Triple Jump
2. Charly Schlauch - 37-ft, 2.5
16. Makenzi Leitenberger (Hughesville) - 34-ft, 4.75
Pole Vault
3. Karly Renn (Southern Columbia) - 10-ft, 6
4. Riley Murray (Milton) - 10-ft, 6
5. Mya Shoemaker (Warrior Run) - 10-ft, 6
9. Sarah Bower (Bloomsburg) - 10-ft, 6
Discus
7. Madison Downs (Lewisburg) - 125-ft, 10
13. DaniRae Renno (Mount Carmel) - 106-ft, 1
Javelin
6. Lauren Shedleski (Mount Carmel) - 130-ft, 7
8. Alex Snyder (Hughesville) - 128-ft
Shot Put
8. Avery Dowkus (Mount Carmel) - 37-ft, 6.5
13. Madison Downs - 35-ft, 11.5