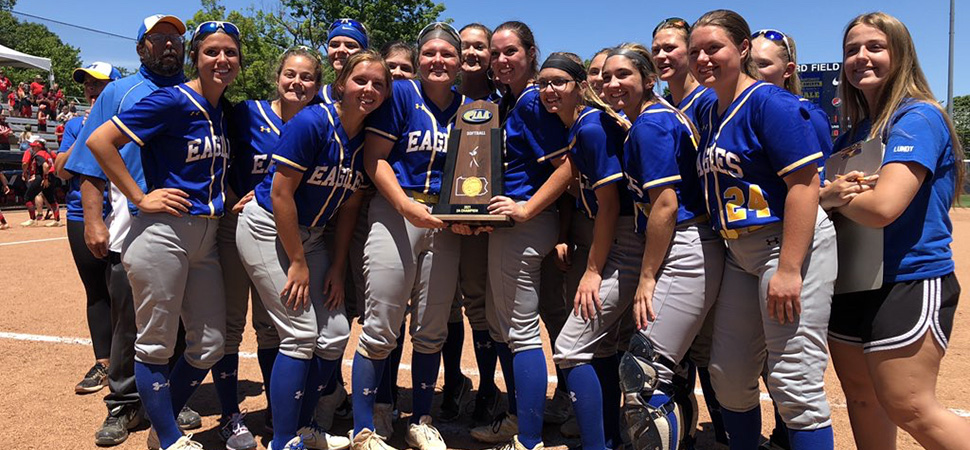 Walshaw double lifts Line Mountain to PIAA Class AA State Championship
By: PIAA District IV | PIAA District IV | June 17, 2021 | Photo courtesy Robert Inglis/The Daily Item
STATE COLLEGE — Kaely Walshaw doubled with one out in the bottom of the ninth inning to bring home courtesy runner Brooke Barwick from first base as Line Mountain beat Ligonier Valley, 1-0, on Thursday in the PIAA Class 2A State Championship game at Beard Field on the campus of Penn State University.
It capped an outstanding pitcher duel between Eagles' ace Kya Matter and Rams righty Morgan Griffin.
Both pitchers struck out 17 hitters.
Line Mountain catcher Aspen Walker led off the bottom of the ninth with her second single of the game. Barwick entered the game as the courtesy runner. Walshaw attempted to sacrifice Barwick to second. After she faield to get the first attempt down, Walshaw doubled off the left-center field fence, and Barwick easily beat the throw home, and set off a wild celebration on the field, and among the large Line Mountain contingent in the first-base side stands.
"The first pitch was supposed to be a sacrifice," Walshaw said. "I really didn't want to, because I thought, we really need a hit to win this game.
"I've played and these girls have been my best friends since I was seven years old. To win (a state championship) with these girls, and with this kind of community of support, I'll never forget it."
Matter again was outstanding, allowing just two singles. In 43 post-season innings, Matter allowed just one run, while striking out 85 hitters.