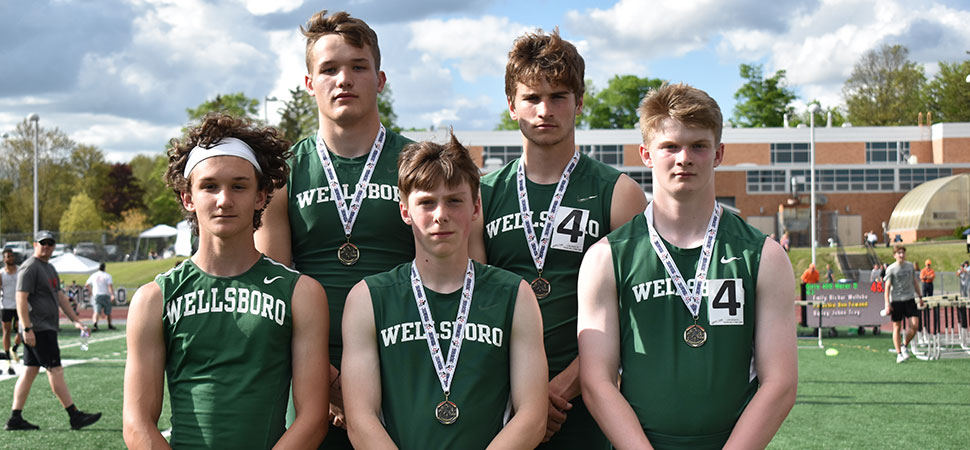 Wellsboro 4x100 relay team takes 1st at NTL Championships
By: Ed Weaver | PIAA District IV | May 14, 2022 | Photo courtesy Jill Gastrock
Wellsboro's 4x100m relay team took home 1st place at the NTL Track & Field Championships at Athens on Friday, May 13.
The team of juniors Jack Poirier and Joe Brown, sophomore Dillion Boyce, and freshman Jack Bryant ran a time of 45.54 to set a season best time, and take home the top spot in the event.
"We've been missing Joe the whole season and today was the first day we got him back," Poirier said. "He had a hamstring injury this season and the coaches moving me to the second leg helped out, especially with Joe running the 1st turn, he's very powerful through it. About three quarter of the way through the third leg I knew we had the race in the bag."
Poirier also finished 2nd in the 100m (11.28) with Boyce finishing in 7th (11.7). Poirier was also 2nd in the 200m (23.67) and 10th in the long jump (18-ft, 11).
As a team the Hornets were 7th overall with 49 points. Williamson won with 135.5 points, followed by Troy in 2nd (115), Athens (100), Wyalusing (70), Northeast Bradford (61), North Penn-Mansfield (60), Towanda (44.5), Canton (42), and Sayre (18).
Boyce also finished 8th in the 200m (24.82), freshman Micah Vickery (18.52) was 8th in the 110m hurdles, junior Aiden Gehman was 6th in the high jump (5-ft, 6), 6th in the long jump (19-ft, 6.5), and 4th in the triple jump (40-ft, 10), junior Spencer Wetzel (10-ft, 6) was 3rd in the pole vault, and junior Wyatt Gastrock (106-ft, 6) was 8th in the discus.
The team is back in action next Thursday and Saturday in Williamsport for the PIAA District IV Championships.